8 in 10 customers enter new stores based on their outdoor signs!
Outdoor signs keep your customers and community members informed of your business and have the power to help increase sales. In fact, 75% of customers will not only enter a store because of its informative outdoor graphics but will also tell others about a business based on its eye-catching signs. At MYC Graphics, we design, manufacture, and install your custom signs using the best materials to enhance your unique brand vision. We have expertise in designing, manufacturing, and installing all types of outdoor signs and over the years have partnered with businesses to create attractive and brand-centric signs.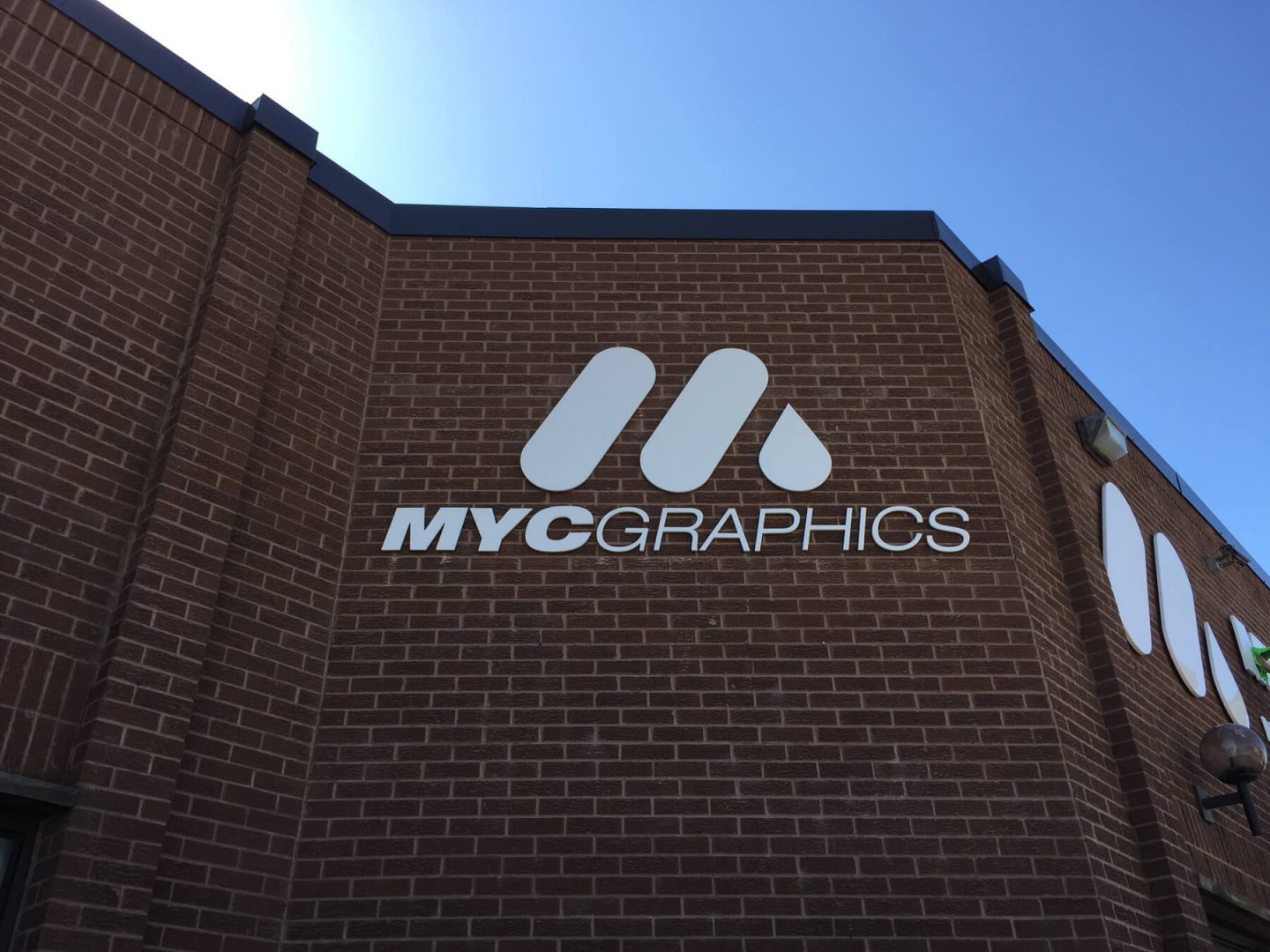 Sign Box
If you have a storefront that welcomes walk-in traffic, you need a sign box to capture your unique logo and brand. Our custom-made sign boxes are a tried-and-tested product that can serve almost every business across industries. We have expertise in making Sign boxes in both illuminated and static styles – both attracting the same attention, with one illuminating for visibility at night.
Channel Lettering Signs
Channel lettering signs offer a modern look with the flexibility to be designed based on almost any logo or font style. They are not just custom-made letters fabricated in a variety of materials, they're your brand clean and vibrant! Channel lettering signs add the perk of at-night visibility for potential customers if your business is located in a high-traffic area.
Halo-Lit Signs
Channel letters can also be fabricated in a sleek lighting style that illuminates each character or logo with a glowing halo. By positioning channel letters slightly raised off of your outdoor building facade, light shines through the open-back feature creating a vibrant effect. Your custom halo-lit sign can be customized with a  variety of colour options to help make your brand pop with a modern flare.
3D Signs
3D signs can add more depth to your custom signs. By slightly extending letters, adding shading, or raising elements to create a pop, your sign's classic feel becomes fresh and exciting. 3D signs, or dimensional signs, can be designed in a variety of styles using a multitude of materials to capture almost any brand's specific customization goals.
Pylon Signs
If you are seeking large-scale impactful print marketing for your department store, gas station, or plaza centre, then pylon signs are highly recommended. Pylon signs or freestanding pole signs, increase visibility of your business's storefront so that customers can spot from a distance. MYC Graphics specializes in creating pylon signs that are designed to withstand the extreme Canadian weather, while never wavering in quality and vibrancy.
Blade Signs
If your storefront is located in a high foot-traffic area where shops are positioned close to one another, you need a stunning blade sign to pull in customers. Blade signs are truly stunning additions that turn any shop-front into a sleek business. These signs are designed to extend from your building's facade with a custom-built attachment that customers can spot as they pass.
Neon Signs
The value and versatility of neon signs remains timeless for businesses across industries. These electric signs maintain their radiance through gas-charged tubes and can be created in a wide variety of colour options and shapes. If you are looking to take your branding to the next level with custom signs that are long-lasting and highlight your brand, contact us today!
Storefront Graphics
If you're looking for something more than a one-size-fits-all approach, custom storefront graphics capture the unique facets of your brand with customized graphic touches that make a difference. We design and fabricate storefront graphics in a collection of vibrant colours and custom finishes to create attractive additions to your store windows and point-of-purchases with decals and free-standing displays.
Wayfinding and Directional Signs
Location is everything – from the interior of your product and fabrication placement to the location of your building to capture the right customers. You need bright and innovative products to help customers find where they're going with customized wayfinding and directional signs. Our team designs and fabricates floor graphics to external building signs to help your customers move in the right direction.
Construction Site Signs
Alerting foot and vehicle traffic is paramount to maintaining safety in any construction zone. We design and fabricate custom mandatory, prohibition, warning, and emergency signs to bring notice of safety or precaution to customers, as well as employees. Although we love to custom design, we keep true to maintaining standardized best practices for your safety construction site signs.
Illuminated Signage
Illuminated signs start off as of your desired sign model with the added flair of lights to capture customers! We design and fabricate lights for indoor and outdoor use with sleek materials, and add the power of visibility to showcase your logo, brand name, or even boat name. Our LEDs can be colour-matched to your business's unique brand and mounted to any indoor our outdoor facade.
Custom Signage
The dynamic abilities of our advanced printing machines allow us to offer any brand the custom sign of their dreams. Our finishes and multi-faceted adhesive products and mounts mean we can place your sign in any location. And they last. Our leg up is living through harsh Canadian winters and that means we can offer you the right advice when creating a completely new custom sign for your business.
Monument Signs
Monument freestanding exterior signs  work well for businesses with large car parks or large plots of land, and can also serve small shops looking to increase visibility in high-footfall traffic areas. Monument signs serve as pronounced business markers that can be seen from a distance. All monument signs can be made to any height using durable materials to fulfil the needs of any sized business – literally.
Wood, PVC, and HDU Signs
Wood signs have made their comeback as a trusted method to fulfil any business's sign needs. From construction signs and new-build announcements to trendy vintage-inspired dining and consumer shops, wood signs marry practicality and aesthetic for customized branding. Our advanced design and printing technology allow us to work with wood, PVC, and HDU to build stunning signs.
Fascia Signs
Fascia signs use the roofline and horizontal width of your business's facade to make a great first impression. These outdoor signs can be designed in diverse quality materials that ensure durability, longevity, and versatility in fabrication. Consider your shop's "fascia" one of the most prominent areas of your business. Make it stand out with the right fascia sign!
Ground Signs
If your business offers a fresh offering that promotes health and wellness, picture a stunning wooden ground sign installed from within a natural floral or grass base. Custom ground signs are free-standing structures that are attached to concrete footers for relative permanency. Ground sign structures can be designed in exciting and sleek methods to ensure your sign is on-track with your branding.
Projecting Signs
Projecting signs pop-out from the side of any business or shopfront's facade to create an added element of visibility to customers. We offer a variety of projecting signs to meet your fabrication and branding goals. Our materials are designed to withstand harsh Canadian weather, which means your branding and design will not fade or damage over time!
Looking for something completely unique?
Contact MYC Graphics and we'll help bring your ideas to life!