Outdoor signs to increase visibility and traffic for your business
Outdoor signs come in all shapes and sizes. Above all, a well-made sign can grab attention and drive people to your business. There are many materials that can be used to construct various types of outdoor building signs. Because of the large impact that these signs can have on people, it is very important to make sure that they are created perfectly. It is also important to make sure that you are using the right kind of outdoor building signage. Check out our signage options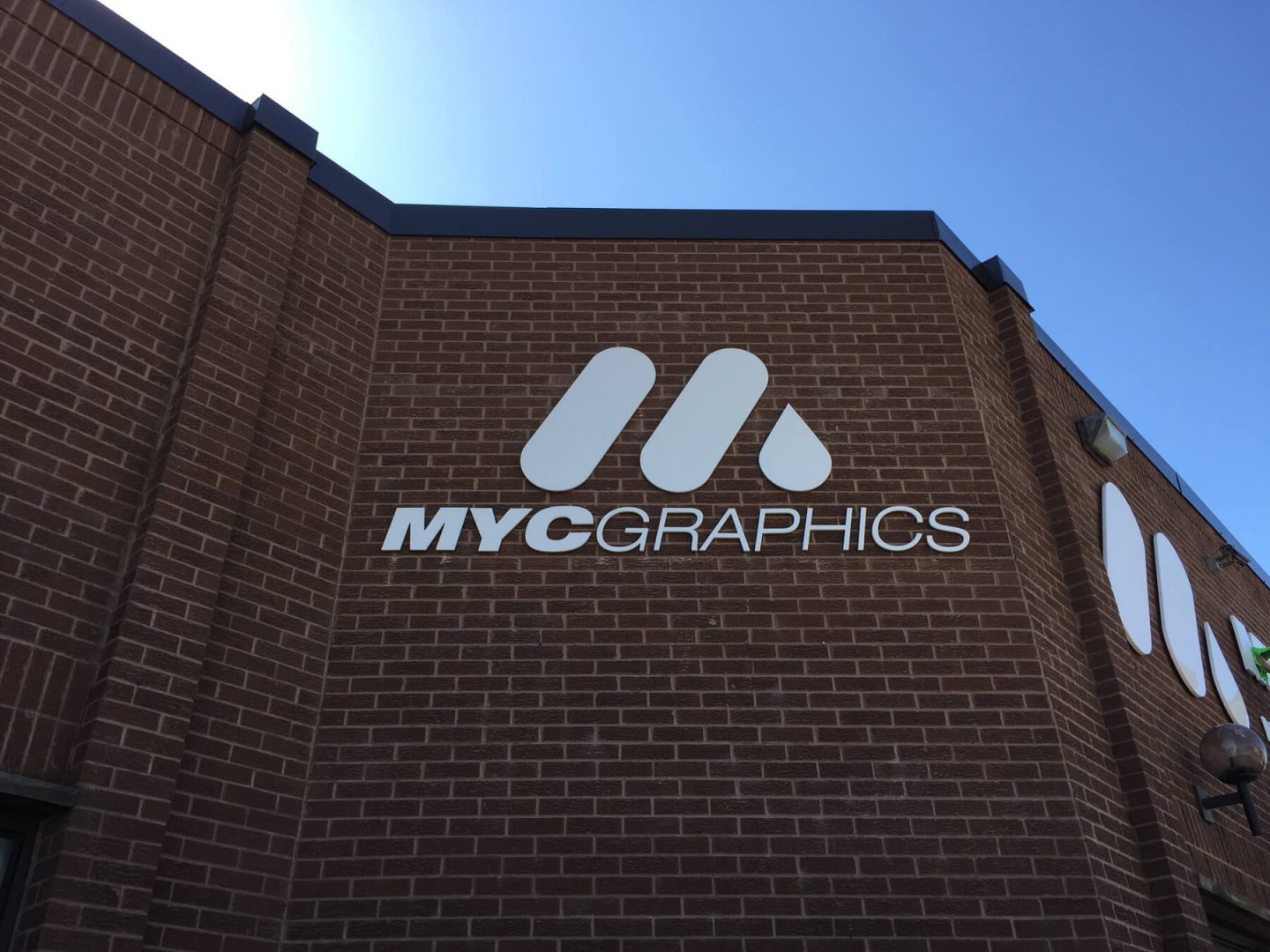 Sign Box
Sign Boxes are a very common form of outdoor signs. You can find these types of signs in most plazas. They are generally made from an aluminum frame with an acrylic insert. It then has graphics applied to it.
Illuminated outdoor sign boxes are the same as regular sign boxes except that illuminated sign boxes light up. Older versions of these outdoor signs usually use fluorescent lights while the newer ones use LEDs.
Channel Lettering Signs
Most newer plazas are now requiring tenants to use channel lettering signs for their outdoor signs. Channel lettering looks really nice and gives the sign presence. They are made in the same fashion as illuminated sign boxes, where each letter is made from an aluminium frame in the shape of the letter with an acrylic insert.
Halo-Lit Signs
Outdoor Halo-lit signs are individual letters which can be cut from a variety of materials such as acrylic, Sintra, aluminium, etc. LED lights and are then mounted inside or on the back of the letter to create a halo effect on the wall to which they are mounted on. Because of its unique look, Halo-lit signs are a great form of outdoor signs.
3D Signage
Dimensional signs are great for indoor or outdoor applications. It can be used for company logos, tag-lines, or product headings. These types of outdoor signage solutions can be made from various materials including, acrylic, MDF, Sintra, Gator Board, etc. and can be mounted to virtually any surface.
Pylon Signs
Because of the need for visibility from a distance, Pylon Signs are pretty standard in almost every mall, strip mall, outlet mall, etc. These types of signs are made in the same way as a sign box.
Blade Signs
Blade signs are great for store-fronts especially those located on busy streets. They can light up and allow people to see the store from a distance. Because they protrude out from the wall, these outdoor signage solutions are quite noticeable.
Neon Signs
Neon signs are light-producing tubes that give shape to multi-colored lines in which a word or group of words can be written or a graphic picture is illustrated. These may include a number of decorative designs to be especially used for advertising and commercial signage such as pubs, restaurants, casinos, hotels, etc.. By designing the desired series of switching parts on and off, endless possibilities of changeable, lively light objects and images are created.
Storefront Graphics
Storefront graphics include a variety of signs, cutouts, banners, displays, and decals that are either freestanding or attach securely to a window, wall, or floor. These graphics display your brand, advertise products, and services. Maybe even your mission statement, core values, or value proposition.
Wayfinding and Directional Signs
Wayfinding signage is any type of sign that gives direction. They exist to help a customer find their way without lengthy explanations or complicated maps. With signs to guide customers along the way, they are able to find their destination with ease.
Job / Construction Site Signs
Construction signs act as an expression of notification through the application of physical, identifiable, and textual displays designating the required adherence to standards and practices within the perimeters of a construction zone.
Illuminated Signage
We provide illuminated signage for all types of usage.  This signage is great for sign boxes, 3d signage, boat names, office, restaurant, or event signage.  They are customizable and come with led colors that can be custom to your color preference.
Custom Signage
We offer custom signage for the interiors and exteriors of your homes and businesses. Our in-house design team has years of experience in creating safety signs, interior signage, vehicle wraps and branding graphics.
Monument Signs
Monuments Signs differentiates itself from the rest of outdoor signage by offering the look of confidence and stability to businesses. Very popular among government offices, not for profits, hospitals, and corporate institutions, monument signs help in branding and increasing the visibility of your business.
Wood, PVC and HDU Signs
Wood signs offer a beautiful and artistic look to their surroundings. They are highly durable indoors and good for short-term outdoor use. Three-dimensional wooden letters and shapes add to the sophisticated and vintage look and thus, are a popular choice for restaurants and furniture stores.
Fascia Signs
According to signs.org," Fascia Signs are signs installed on a building's fascia, the vertical surface that runs from the grade to the roofline and horizontally the width of the building". A highly visible sign alternate, fascia signs highlight your identity and brand at your storefront.
Ground Signs
We offer ground signs with custom options that help you highlight your business, brand name, services and offer a contact number in a bold and eye-catching way that attracts attention and gains the impressions you are looking to receive.
Projecting Signs
Projecting Signs, also known as blade signs help you gain audience exposure for your business by increasing visibility from all directions. We offer custom options for materials, illumination, sizes and shapes to fit your business needs.
Looking for something completely unique?
Contact MYC Graphics and we'll help bring your ideas to life!