Vehicle decals are essentially large stickers. Decals are usually the most inexpensive way to brand a vehicle. Decals will however not receive as much attention as a full or partial vehicle wrap.
A simple decal installation would usually consist of a company logo, website, and phone number. A more complex installation can include various graphics as shown in the example to the left. Car decals, window decals, truck decals, and trailer decals all fall under the decal category and use very similar types of vinyl.
If the objective of a company is to identify its fleet, then decals are a great option. Decals are the easiest way to begin branding a fleet and are great for when vising sites where company branding must be present to identify the vehicle, (i.e. construction sites, etc.). If the objective is to promote a brand or product and put it in front of as many people as possible then a full or partial vehicle wraps would be a better solution.
SOME OF OUR VEHICLE DECALS
A simple car decal option which includes a company logo, website and phone number can range from $200 to $400 depending on the size of the decals. More complex decal graphics can cost $500+ as seen in the image to the right.
The cost of vehicle decal graphics depends of the size of the decals, the type of vinyl used, the complexity of the graphics and the difficulty of installation. The next section talks a little bit about the different types of vinyl used to create decals. The complexity of graphics refers to their size and detail. Square and rectangular graphics is easily cut and installed on the vehicle, while a graphic such as the grass in the picture to the right (complex decal) would take a significantly longer time to cut and apply to a vehicle because of its fine detail. The installation also has a minor influence on the cost of the vinyl decals. This is because it is fairly easy to install graphics on a flat surface compared to an area which might have obstruction( i.e. door handles, window trim, etc.).
There are many different types of vinyl which can be used to create and install decals on any number of vehicles. Different manufacturing processes are used to make different types of vinyl. depending on the process used to create a specific type of vinyl it can only be used for specific applications.
All vinyl has a shelf life that can range from 1 to 15 years. The longer it is designed to last the more expensive it is. Below is a shortlist of a few popular types of vinyl that are used in creating vehicle decals.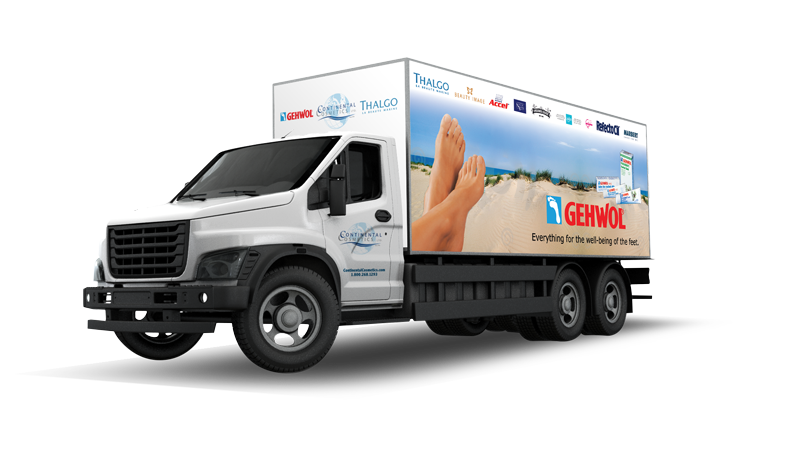 TYPES OF VINYL FOR VEHICLE DECALS
Reflective vinyl for example is great at getting attention at night. It reflects the light back from other vehicles illuminating your decals. Similar to an ambulance. The list below names a few different type of vinyls available.
Standard Vinyl – Refers to the most commonly used vinyl which comes in a variety of colors and can last anywhere from 1 to 15 years.
Reflective Vinyl – Refers to vinyl which reflects light similar as you would see on emergency or safety vehicles. There are a variety of types and grade of reflective vinyl some of which are specifically designed for emergency vehicle decals.
Translucent Vinyl – Refers to vinyl which allows light to pass through it but can not be seen through. Comes in a large variety of colors.
Perforated Vinyl – perforated vinyl has holes in it which allows people to see out of a window but people looking in will see only the graphics printed on the other side. This is great for store fronts as it allows people to see outside while letting light come through and allowing for advertisements to be placed in the windows.
Chrome/Carbon Fiber/Textured Vinyl – very popular in create high impact and elegant graphics.
Magnetic signs and decals for vehicles are great for when advertising all the time is an issue. Many people with home based business or subcontractors use magnetic decals to promote their business when needed. They are easily installed and removed over and over again.
INQUIRE ABOUT DECALS