Strategic and Trusted Cannabis Marketing
By October 2020, the Canadian cannabis industry saw 10,312,899 packaged units of product sold across the nation, transforming the industry into the reputable brick and mortar and digital service provider we see today. Unlike many other service industries and providers, the cannabis industry works around specific marketing guidelines, unique to its offerings. For this reason alone, your cannabis storefront or digital online store cannot use the same tools as others to find success – you have to get creative.
Dispensaries, Product Packaging, Signs, Storefronts, Window Graphics and much more.
Create Engaging In-store Cannabis Marketing Experiences
With so many limitations facing your cannabis shop, target repeat business and word-of-mouth sales through in-store experience with custom graphics, tailored fonts, beautiful banners, and user-friendly menus. Our graphic designers and installers can work to meet your specifications with our innovative colour-matching technology. We understand that some needs are not just aesthetic, they're the law, and we can meet those needs through carefully crafted products. This is where our team shines. To us, graphic designs, fabrication, and installation are more than just marketing, they are communication tools that build relationships.
Build digital menus that are user-friendly with our digital graphics team
Use fonts and unique lettering with custom banners and wayfinding signs
Celebrate paraphernalia brands with floor graphics that direct to departments
Promote with call-to-actions with dimensional lettering and custom mounts
Conceal your cannabis shop offering with window treatments and tinting
Make your point-of-purchase a dynamic in-store feature with branded stands
Customize labels and packages for all non-government regulated products
Call Us
Cannabis Marketing Guidelines.
We follow government regulations and guidelines for Cannabis Marketing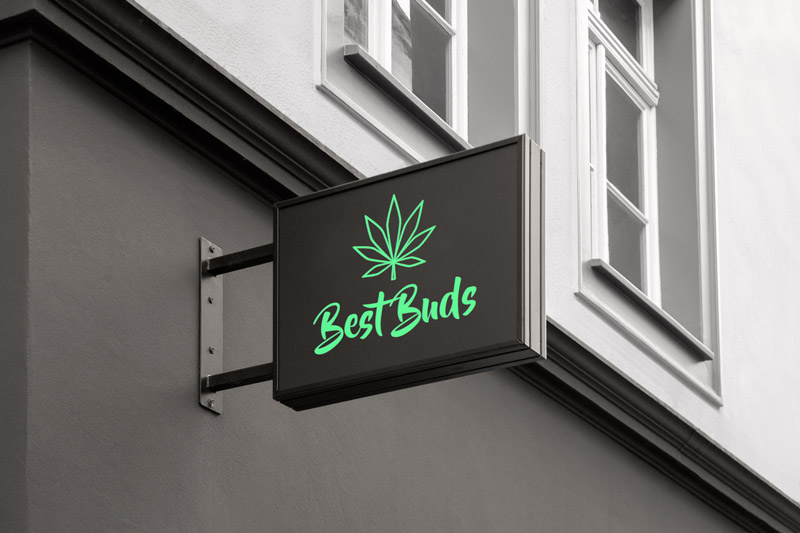 Canadian government regulations are highly specific when permitted particularly forms of cannabis marketing. Our team works with you to implement the right digital and print marketing for the cannabis industry that is in line with Canadian government regulations.
NO distributing marketing materials relating to price or distribution of cannabis
LIMITED demographics permitted in marketing targets within your industry
NO depiction of fictional or real humans and animals using your cannabis product
CANNOT promote a positive or negative way of life following cannabis use
NO cannabis marketing depicting positive or negative emotion, glamour, or vitality
CANNOT use window displays to target shoppers to visit your cannabis shop
NOT permitted to have translucent windows permitting visual access to products
Email Us