Complete Design, Print & Installation Across the GTA
Window graphics are advertising window treatments that help build your business and showcase your brand. Window graphics are designed in a variety of vinyl styles made to adhere to your large or small windows without damaging the glass or leaving residue. These customizable print marketing graphics can be used to promote what you do while providing UV protection, perforated one-way sight, and so much more. Our innovative print marketing solutions allow our customers to have products designed, manufactured, and installed in one location for added convenience and brand consistency.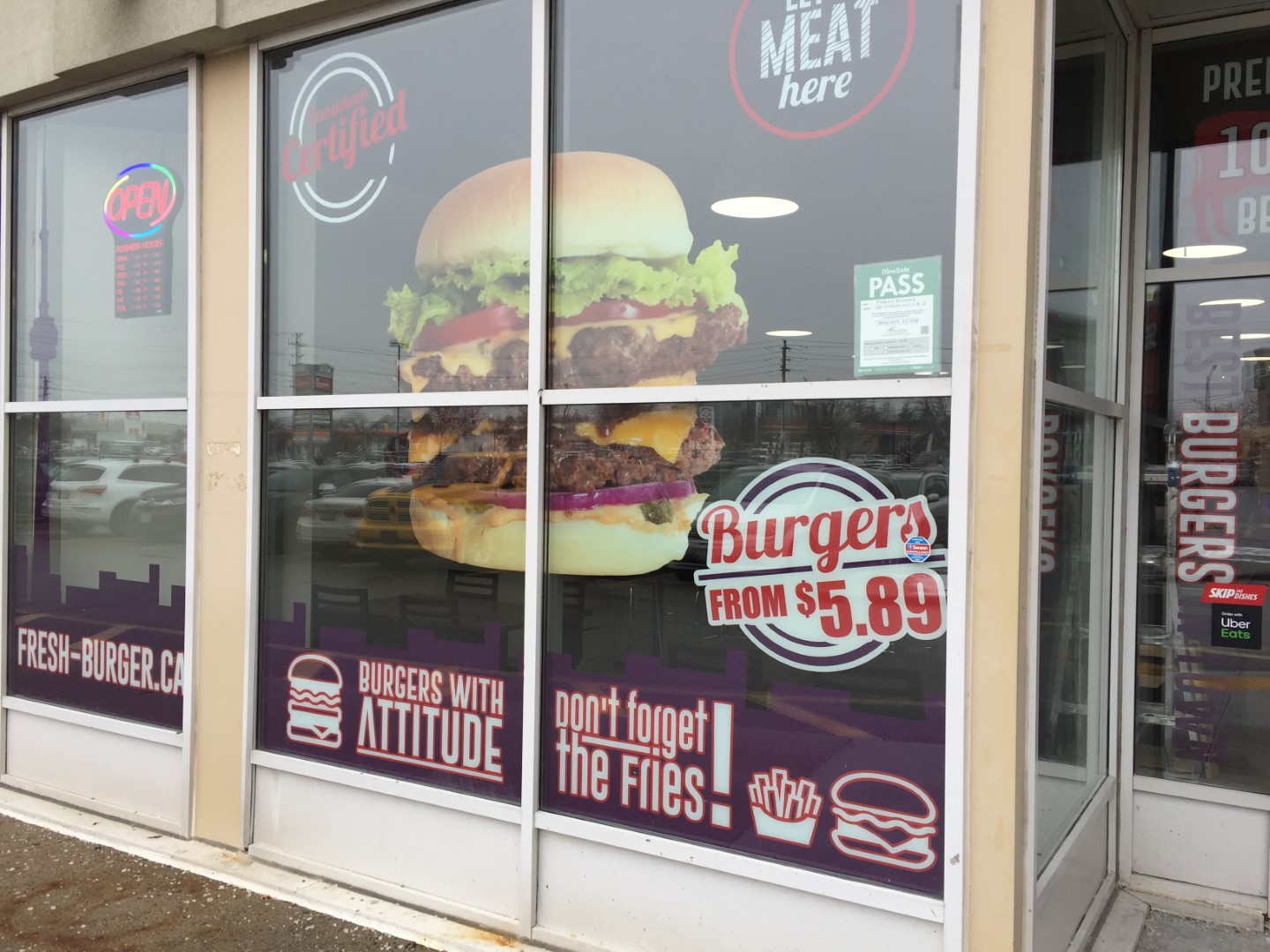 OUR WINDOW GRAPHICS
Window decals and graphics come in a wide variety of shapes and sizes to cater to your needs. We specialize in custom window decals,  window perforations, frosted window treatments, and hanging signs. And because our team specializes in custom graphic design, fabrication, and installation, you can trust our product to contain your brand's consistency throughout the development and installation of your window graphic.
Vinyl Cut Lettering
Vinyl cut lettering is the go-to choice for custom window graphics and treatments. These cut vinyl graphics offer sleek versatility for company logos, advertising specials, contact information, and tag lines.
Printed Graphics
Printed graphics are full window treatments that advertise or promote your business. Large-scale graphics easily cling to window surfaces to create a seamless treatment that appears painted onto your window. A sleek option for any business.
Perforated Graphics
Perforated graphics are, or perforated film, is see-through vinyl that provides one-sided vision to window treatment applications. By installing custom perforated branded graphics, you add privacy to your windows, while promoting your business.
Frosted Window Treatments
Frosted window film can inform or add privacy to your windows, and they always look elegant no matter which option you choose. With a seemingly etched look designed for your windows, businesses appear modern and refreshed.
Our Advantage is Our People
Each MYC team member is dedicated to delivering quality work. We are not afraid to ask questions and adjust to meet your brand goals. When relying on us for a custom wrap or when contacting a designer for a new website, you can trust our team to explore the right options for your business. In our line of work, it's not enough to say that we offer quality service with great customer care – we already do that. We stand out among our competition because we don't make excuses, we just get the job done.