Custom WallPapers for Builders and development groups
Brand your Projects for New Business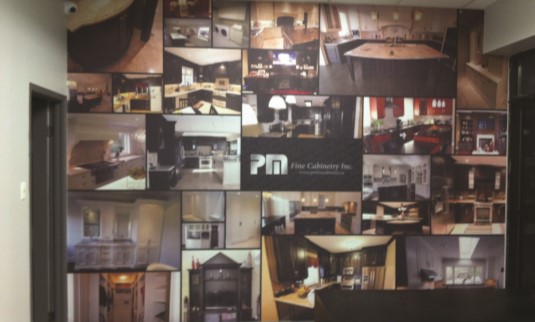 The creative and graphic design possibilities are endless with custom wallpaper for your business. Whether designing large-scale logos for custom walls or layering professional artwork for a fully branded experience, custom wallpaper is guaranteed to attack attention and increase business. 
Stunning feature walls enhance your business and allow you to share past projects in a boutique-style aesthetic. This draws attention from customers for its contents, but custom wallpaper also serves as a cutting-edge decor element of which you will appear to be at the forefront. Our team measures, designs, and installs your custom wallpaper to ensure the best fit and stunning graphics. We help develop projects based on your marketing goals, but also have the ability to start from scratch to develop something entirely new!
How to make custom wallpaper work for you!
Stunning images and portfolio samples transform your space into a high-end boutique

Create a mural effect with your images that showcase your expertise with HD graphics

Our wallpapers are easily removed for your desired temporary or permanent design

Branded wallpaper creates cohesive marketing that appears as if painted on your walls

To-the-detail personalization to create an overall branding strategy for customers 
Impactful marketing. Innovative solutions. Real Relationships.
Our team of talented graphic designers create your custom digital and print marketing product to meet your business's key branding goals. Once we have rendered the right look and feel for your brand, our in-house fabrication and installation experts work to physically create your marketing product. Our vision is to help brands make an impact through innovative marketing built on real relationships.