Build Relationships with Promotional Hospitality Marketing
The hospitality industry relies on capturing key customers to engage with their brand in a multitude of inspiring ever-moving ways. If you work in catering, specialty food and beverage, event planning, the wedding industry, travel and tourism, or have a small business that you've ever promoted at a tradeshow, you need cutting-edge print marketing and digital design! Communication is paramount to your industry and your success. You need to transform your business, product, or service offering into an inspiring experience that sets the standard for innovative engagement.
Market your business to increase customer relationships.
3D printed display models
Graphic tents and canopies
Tension fabric displays
Pipe and draping
Wayfinding signs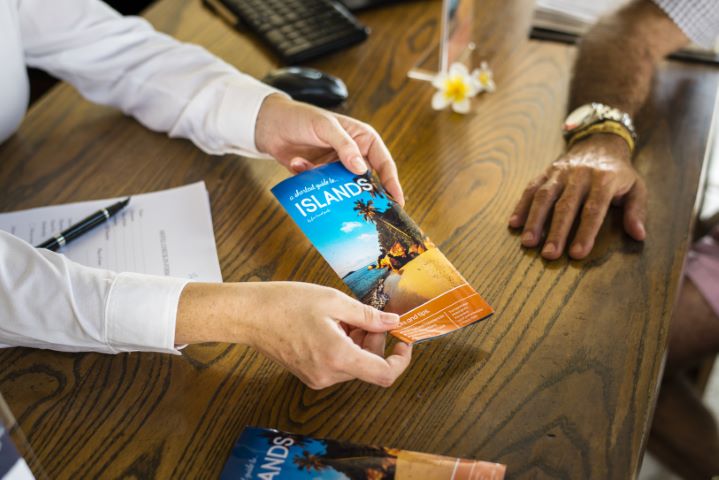 Improve your Trade Show Displays
Trade show displays have changed since the time of mediocre folded cardboard and haphazard fonts and graphics. You know you're not the only planner, sommelier, inventor, or developer in your industry, so what do you do to set yourself apart? Trade show displays are experiences, and you need to engage users – and they want the free swag. Think of your display as a mini pop-up infoshop, complete with branding across all visuals.
Invest in tailored displays that transform your booth into a pop-up
Don't underestimate the value of branded swag on unique items
Prepare easy-to-read one-page promo flyers on hard cardstock
Gather a crowd for give-a-ways with beautifully branded apparel
How can you sell services without promotional hospitality marketing?
Think of reviews as your very best first impression to potential customers who can't smell, touch, taste, or experience your offering unless they hire you. Did you know 95% of shoppers read reviews before making a purchase? So why not display reviews across your banners; type them in pronounced fonts and colours across your flyers, leaflets, brochures, and marketing material. You've been working hard to build and maintain relationships, now leverage them for more customers.