A-Frame Construction Signs
Custom Designed & Printed Sidewalk Signs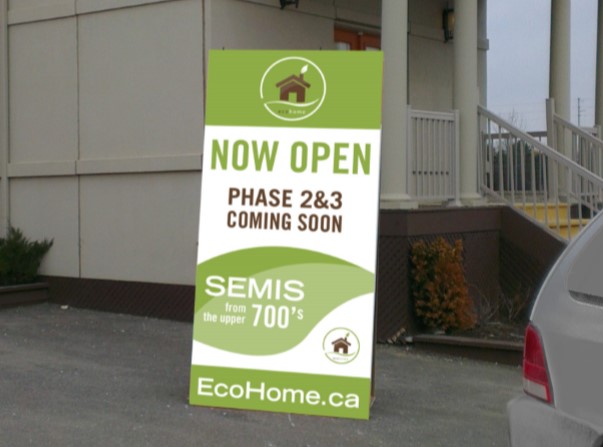 A-frames are a versatile sign option that can be used both indoors and outdoors to attract and inform customers. Their durable stands enable easy installation and simple panel replacement as your business drives promos and more. These go-to sign options can be fabricated in a variety of heights and materials to maintain your brand.  A great bonus to using a-frame signs is their cost. A-frames are affordable alternatives that can be reused to say what you need to when you need to without having to go beyond graphic changes if looking to change-up your marketing scheme.
Don't be fooled by their versatility, these lightweight practical signs are also easily transported, so you never have to worry about long-term installation. This is a perfect feature for those promoting site visits, setting up quick pop-up notices, sharing safety reminders, and so much more. What branding are you looking to promote on your custom sign? Contact MYC Graphics today – let's talk a-frames!
Key Benefits of A-Frame Signs
Promotional usage – announce new and exciting discount opportunities
Informative Signage – share key updates important for shopping experiences
Safety Announcement – the best way to disclose safety is to show what's important
A-Frame Construction signage Sizes
We offer A-Frame Signs in standard and custom options. Our standard A-Frame Signs are 32"*47"
Our Advantage is Our People
Each MYC team member is dedicated to delivering quality work. We are not afraid to ask questions and adjust to meet your brand goals. When relying on us for a custom wrap or when contacting a designer for a new website, you can trust our team to explore the right options for your business. In our line of work, it's not enough to say that we offer quality service with great customer care – we already do that. We stand out among our competition because we don't make excuses, we just get the job done.