Coroplast Signs for Construction & Updates
Simple Installation & Informative Signs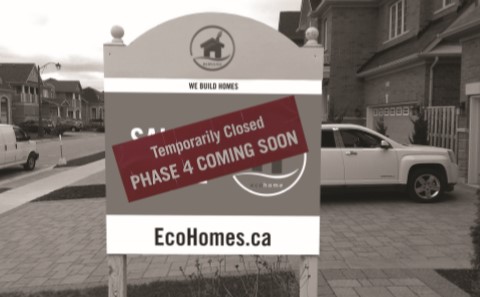 Coroplast signs, or yard and lawn signs, are effective outdoor signs that promote your project involvement and update customers. Their dynamic versatility and dimensionality make coroplast signs a fan favourite for industries that require outdoor quick message updates with easy do-it-yourself installation. 
Coroplast signs can be printed single or double-sided with a lightweight feel that is easy to set-up and transport! If you're seeking a cost-effective outdoor sign that doesn't skip quality, durability, weather-resistance, and vibrancy, this is your custom sign solution for your exterior! 
Cloroplast signs resist UV fading, are waterproof, & corrosion resistant!
Exterior cloroplasts or lawn signs are largely used by builders and construction groups to advertise their project near high pedestrian traffic. You can advertise your products and services on the fences at events and festivals, as well. Whatever your outdoor business needs, we can custom fabricate the right sign to meet your branding goals!
The cloroplast exterior sign advantage!
Resistant to harsh Canadian weather
Cost-effective to meet any budget
Vibrant options for inspired branding
Our Advantage is Our People
Each MYC team member is dedicated to delivering quality work. We are not afraid to ask questions and adjust to meet your brand goals. When relying on us for a custom wrap or when contacting a designer for a new website, you can trust our team to explore the right options for your business. In our line of work, it's not enough to say that we offer quality service with great customer care – we already do that. We stand out among our competition because we don't make excuses, we just get the job done.