Fleet Graphics & Vehicle Wraps
Design, print, & install in one location
Fleet graphics and vehicle wraps have been our speciality since 2008. Since this time, we've installed wraps on over 2000 vehicles and we continue to innovate for better installation and design. This is why we've grown our business – to meet the diverse needs of our customers and to provide brands with a variety of marketing tools under one roof. After establishing our name under  Market Your Car, we have furthered our reputation, and now we design and install our premier products for vehicles nationally.
Get a quote
Our award-winning creative team develops vibrant and attention-grabbing wraps designed for any vehicle from compact sedans to long-haul trucks. And every install is complete with the same precise installation and care. We know that vehicle wraps have the ability to make between 30,000 to 70,000 impressions per day – that's a lot of eyes on your brand, and we want to make it count! That's why we carefully colour-match your logos with impactful graphics and ensure accurate alignment on every install.
View our gallery
Get a quote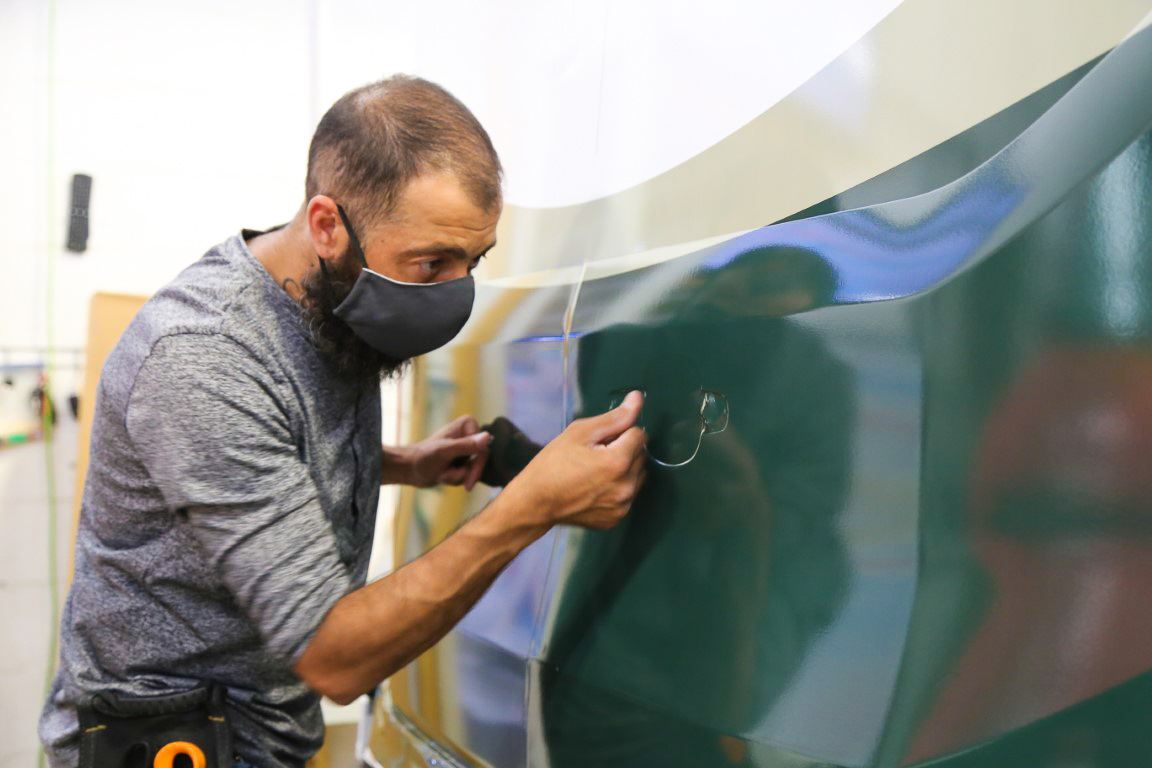 We have seen a lot of vehicles, and they all comprise of unique divots and curves that can make it difficult for wrappers to install a seamless design. Lucky for our customers, unique car shapes and custom wraps are what we do. Our innovative graphic technology allows our designers to measure and track your vehicle's body so that our printers can develop a product to its exact specifications. Then, our installers align your wrap in several pieces, and in a way that avoids bubbles, weather damage, or rain exposure under each cut.
Our desire to provide quality, expertise, and satisfaction has helped us grow into an 8,000 sq ft facility, wrapping compact vehicles to large fleet trucks. And our wraps are designed, fabricated, and installed in-house with our team. Our team of dedicated designers and installers help guide our customers through the process from development to installation, to ensure cohesive branding that focuses on your business and makes an impact.
Our advantage is our people. Each MYC team member is dedicated to delivering quality work. We are not afraid to ask questions and adjust to meet your brand goals. When relying on us for a custom wrap or when contacting a designer for a new website, you can trust our team to explore the right options for your business. And thoughtful service, built on real relationships, is at the heart of our business because we genuinely care about your success.
"Our vision is to deliver quality vehicle wraps with exceptional service at a reasonable price with customer satisfaction being the goal. Our business is showcasing yours."
Our team focuses on quality for customers rather than gimmicky completion dates just to encourage sales. Our installations are done in a reasonable amount of time to ensure seamless quality and weather-resistant installs that will not lift once you're driving. Although we love meeting with our clients, our goal is to have your vehicles set up and road-ready the minute they're complete. Poor installs don't sit well with us, no matter how often we get the chance to speak – and we love building relationships with our customers. The traditional challenges associated with vehicle wrap installation can include high failure points such as channel and wheel wells, rivets on trucks, and so much more. We know that the work involved in designing, fabricating, and installing your custom wraps requires care and focus, and that takes time. In our line of work, it's not enough to say that we offer quality service with great customer care – we already do that. We stand out among our competition because we don't make excuses, we just get the job done.
INQUIRE ABOUT WRAPS
CHECK OUT OUR VEHICLE GRAPHICS
Market Your Car Inc.
For more detailed information about vehicle graphics please visit Market Your Car Inc., our vehicle graphics divisions website.
Wraps Get Noticed
CPM stands for Cost per Thousand Impressions. It is a industry standard unit of measure which defines how many dollars it costs to run an advertisement to receive 1000 impressions.
Studies estimate that vehicle wraps can garner as many as 30,000 to 70,000 daily impressions. Vehicle wraps have one of the lower CPMs in the industry making them an important part of the marketing mix.
Longevity
Vehicle Wraps can last 5+ years if installed properly and with the right material. Truck and trailer graphics can last 10+ years if taken care of properly. The life of your wrap depends on how it is taken care of by the owner. Our Vehicle Maintenance Guide explains how to take care of a wrap to ensure the longevity of your purchase.
FAQs
What is a vehicle wrap?
A vehicle wrap consists of graphics printed on vinyl with an adhesive backing that is installed on any vehicle. Other terms for a vehicle wrap include car wrap, truck wrap, bus wrap, and trailer wrap. Partial wraps involve only a portion of a vehicle being covered with graphics and adhesive material. These are also called half wraps, as they often cover half the vehicle, but can also cover less or more depending on the design. Customers often refer to vehicle graphics as decals. Decals usually consist of simple logos or text placed on vehicles, rather than covering large portions of the vehicle surface with graphics.
What is the process of wrapping a vehicle?
The entire process begins with strategic design and can take the longest to complete. A customer may have an idea in mind or is opened to creating something completely new. Our creative designers will work with our customers to develop their concepts or work toward a new and innovative design, and from there our team creates mock-ups! Once these designs are approved, we translate a customer's idea into an attention-grabbing mobile billboard. In cases where companies have their own design departments, we are happy to take on a support role and can advise and review to ensure a perfect final graphic product.
Once the design process is finished, we move the concept into production. Production can take anywhere from 2 to 5 days depending on the type of project. It takes roughly 1 day to set up and print the graphics, and printed graphics require a minimum of 24 hours to out-gas and dry before lamination. All graphics must be laminated with the proper laminate before being installed onto a vehicle to prevent fading from UV, rain damage, wear and tear, and to ensure the longevity of our product.
When the graphics are ready for installation, our professional installers can install our product to your vehicle. This can take anywhere from a couple of hours for simple decals to 2 to 4 days for 53 ft trailers and food trucks. An average-sized car wrap usually takes 1 day.
Some people ask us why it takes so long. And the simple answer is because we do it properly.
Why do car wrap prices vary from company to company?
Every company in the industry will most likely have a different answer to this question. In the end, it boils down to 4 major points: Size of company, materials used, quality of installation, and quality of printing.
Size of Company: A price from a company that operates out of a person's garage will most likely be much smaller than an established business with a facility and employees. Going with an established company will most likely ensure who you hire will be around in 5 to 10 years, while someone just starting out may not always make it. Professional staff, proper equipment, and a facility have certain costs and too many companies undervalue their labourers and cost of materials that go into vehicle graphics.
Materials Used: There are many reputable companies that make vinyl products – 3M, Avery, Oracal, and Hexis,  are some of the larger ones. We use primarily 3M and Avery because of the quality of materials they manufacture. Companies try hard to compete on price without explaining the differences in materials to customers. This often leads to the wrong materials being used on vehicles. If you begin to explore vehicle graphics in detail you can easily see which last and which do not.  Print companies often use the cheapest materials they can find, which only leads to failures down the road. The unfortunate results of this include peeling graphics, graphics that completely fall off your vehicle, and the vinyl cracking or fading over time. There are hundreds of different types of vinyl made by numerous companies for different purposes. Some of the difference in features include:
Air Release Technology – allows the vinyl to be installed without air bubbles underneath because it escapes through air channels specially designed for the purpose.
Conform-ability – some vinyl is manufactured in a way that allows them to be stretched up 150% of its original size, while some are not. This is a very important feature when it comes to vehicle wraps because of all the different curves on any vehicle.
Adhesive Type – some vinyl adhesives are made to be permanent, temporary, or removable. Choosing the wrong one on a vehicle can damage the paint upon removal.
Life – Some vinyl is made for short term applications such as 1 month, while others are made to last 10+ years. A vehicle wrap done using the proper materials and installed correctly should last 5+ years.
Quality of printing: Today's large format printers are amazing machines, but they require ongoing cleaning and maintenance to function properly. Most poor-quality prints are a result of one of 4 components:
Design Quality – No matter how good the printer is if the design files are low resolution they will print terribly. It is the designer's job to ensure the design files are high enough resolution for the size of print that is required. A good print company will double-check files and advise customers of the quality before printing!
Resolution – Printers have profiles that tell them how much ink to drop to make a certain colour. These profiles have different resolutions that they print. The higher the resolution the more ink the printer drops and slower it prints. Companies often choose the low-resolution setting which allows them to print much faster and do more jobs per day with one machine.
Printer Maintenance – A Printer's head takes a beating from printing graphics all day long and because of that, it needs to be cleaned regularly. If it is not cleaned regularly then the head will clog up and produce poor quality prints.
Printer Setup – Every printer has an internal setting and mechanisms which need to be adjusted over time. If these adjustments are not done then the print will come out looking poor. These settings adjust the speed at which the printer prints, the distance between passes as it prints large panels, the alignment of the head as it moves to ensure it drops in the right place, and much more. These are all vital to ensure good quality prints.
Quality of Installation: The quality of installation plays a major role in the life of a wrap. If installed improperly the wrap can begin to fail the next day and not last longer than a couple of months. If, however, the installation is done properly while using the correct materials a wrap on a truck or trailer can last 10+ years.
Vehicle Wraps are an exceptional way to build brand awareness. They take advantage of a vehicle that already drives around and transforms itself into a mobile billboard. MYC Graphics can wrap anything from a small car to a 53-foot trailer. No matter the size of the fleet we can accommodate it in our facility in Mississauga.
When you compare the cost of a vehicle wrap to other forms of advertising, it's easily seen how inexpensive they are in comparison. The following table shows the cost comparison between vehicle wraps and other forms of advertising. The table below shows the annualized average cost of wrapping various vehicles.
Average Cost
Vehicle Type
Life
Annually
Monthly
Daily
$1,650.00
Compact Car
5 Years
$330.00/yr
$27.50/mo
$0.89/day
$2,300.00
Small-Medium Cars
5 Years
$460.00/yr
$38.33/mo
$1.24/day
$2,450.00
Medium-Large Cars
5 Years
$490.00/yr
$40.83/mo
$1.32/day
$2,600.00
Trucks & Vans
5 Years
$520.00/yr
$43.33/mo
$1.40/day
$2,800.00
Large Trucks & Vans
5 Years
$560.00/yr
$46.67/mo
$1.51/day
$2,700.00
Cargo Vans
5 Years
$540.00/yr
$45.00/mo
$1.45/day
$3,000.00
Small Food Trucks
5 Years
$600.00/yr
$50.00/mo
$1.61/day
$2,400.00
Small Cube Trucks
10 Years
$240.00/yr
$20.00/mo
$0.65/day
$5,500.00
Large Trailers
10 Years
$550.00/yr
$45.83/mo
$1.48/day
We've done the math and a wrapped vehicle in the GTA will generate, conservatively, 7,700,000 views in a single year! That works out to 21,095 views per day.