Security Films to protect your glass doors and windows
Security window film is a protective laminate that stops glass from shattering upon impact. Security films can be fabricated in a variety of translucent colours and tints, and are offered with different rating levels based on the level of damage they can withstand and for how long.
In addition to shatter-proofing, security window films with tint can also improve HVAC conditions within your space by blocking harmful UV rays through glass doors and windows. This makes for a more comfortable in-office experience with better-regulated temperatures for employees seated near glass doors and windows.
Did we mention we are 3M certified?
We are a 3M gold standard certified provider, which means our customers can take advantage of high-grade film that creates a substantial impact on your space when used. Our fabrication specialists safely install seamless 3M security film; you won't see the difference, but you will feel the difference window security film makes in your home or business storefront.
Safety and Security Window Film Demonstration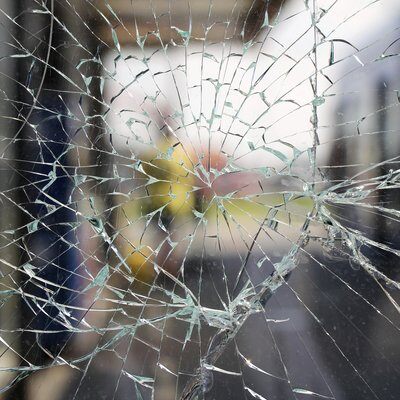 PROTECT YOUR ASSETS WITH SECURITY WINDOW FILMS
SECURITY
Our window films can block as much as 60% of the Sun's heat. This allows you to save energy costs by approximately 40%.
HEAT REJECTION
Efficient heat rejection means improved comfort. Our window films maintain comfortable temperatures that save you costs in energy.
FADING
Window tints help alleviate renovation costs in offices with many windows by helping prevent fading in decor and furniture over the long term.
CUSTOM LOOK
With our wide selection of shades and colours, customers can choose window films that offer practical solutions that can also adhere to your desired brand marketing.
COMFORT
The unique properties of safety film allow for added savings in cooling and heating costs by permitting a more comfortable temperature in your office or space.
COOLING COSTS
Reduce heating and cooling costs by up to 30%. Certain window and privacy films may qualify for LEED credits in certain municipalities for their energy improvements.
ANTI-GRAFFITI
Security films protect against drawn graffiti as a result of their laminate surface. In addition, these surfaces help stop excessive damage through their shatter-resistant exterior.
UV PROTECTION
UV films and Window tints are so effective that they block more than 99% of the sun's harmful UV rays.
PRIVACY
In addition to translucent laminate finishes, tinted films can also be fabricated in a variety of colours and finishes for added privacy or to fulfil your marketing goals.
Our Advantage is Our People
Each MYC team member is dedicated to delivering quality work. We are not afraid to ask questions and adjust to meet your brand goals. When relying on us for a custom wrap or when contacting a designer for a new website, you can trust our team to explore the right options for your business. In our line of work, it's not enough to say that we offer quality service with great customer care – we already do that. We stand out among our competition because we don't make excuses, we just get the job done.