A-Frame Construction Signs
We design and print custom sidewalk signs.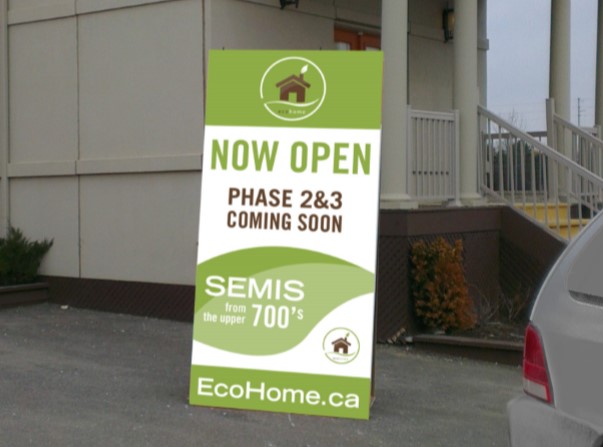 Also known as sandwich board signs or message board signs, A-frame signs are portable and visually effective indoor/ street signage used to advertise products or create awareness for your business. 
Our design agency designs and prints A-Frame boards for promotional display and as safety signage. Our design and printing company customizes message board signs that are effective as indoor and outdoor signage. 
Construction/ Real Estate Signs: We customize promotional signage for outdoor advertising that helps estate agents advertise their sales and generate leads. Our design and printing company also customizes construction signs and safety signage for developers and estate groups.
Sidewalk signs: Our A-frame signs are durable and weatherproof signs that are fade resistant and can last for years. They are a long term advertising investment as sidewalk signs for businesses that want to highlight products and invite customers using outdoor advertising or increase sales by using them as interior signage. 
We specialize in providing high-quality design, print and installation service, all in-house. Our printing company provides A-Frame Construction signs, ideal for businesses, builders, restaurants, realtors and developers. These signs help in sidewalk advertising to promote the lease or sale of real estate, allowing you to convert your foot traffic to potential customers.
Our A-Frame Construction Signs are effective as directional and safety signage for construction zones, asking people to not step into any hazardous work environments and acting as way-finding signs for visitors.
Key Benefits of A-Frame Construction Signs
Promotional usage:

Sandwich boards are very popular among cafes, restaurants, and other businesses as they help you promote an ongoing offer or sale. As a realtor, you can use promotional messages to reach out to your audiences.

Informative Signage:

Message boards help you spread awareness, offer directional information to your guests, and help you spread informative messages for your business. As a realtor, you can announce open houses, or share contact information with your audience

Safety Signage

: Builders and Construction businesses can protect their employees and bystanders by using safety signage to highlight hazardous zones and mark construction areas. 
A-Frame Construction signage Sizes
We offer A-Frame Signs in standard and custom options. Our standard A-Frame Signs are 32"*47"
How do we design, print and manufacture our A-Frame Signs?
Our design and printing agency makes all your signage by understanding your business and promotional needs. That is how we can create A-Frame Boards that are uniquely built and customized for your needs. We make A-Frame signs that are weather resistant and durable by using high-quality materials like MDO, Coroplast or aluminum
Our in-house team offers to design your A-Frame sign and create custom sizes for your business.
Our Expertise in A-Frame Construction Signs
MYC Graphics has years of experience in designing, printing, manufacturing, and installing signs and signage. We have worked extensively on interiors, outdoor signage, promotional materials, and graphics for construction companies throughout Canada. We assure the product we send to you works for your business by managing high standards of in-house design and manufacturing process. We are known for our creativity and reliability and have worked with well-known brands such as Armani, Google, Esso, and GFL.